Everyone's been wondering how Barney survived his jump into the river in Pontiac, IL while visiting Ginger…  Well, Zuzu and I were walking along one day and look who jumped out at us…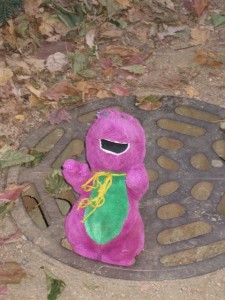 Ginger sent along a box of Barney's belongings for his stay with us.  She included some yummy pupcorn that we ate while we watched the Barney video.
Zuzu was trying to fool Barney by sharing her pupcorn with him.  I said "No way!  I'm not sharing with that purple dinosaur!".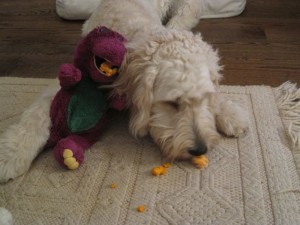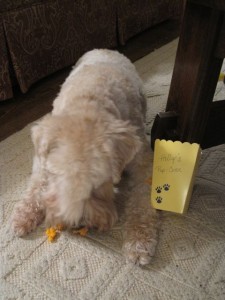 Mom said we were really obsessed with Barney's feet.  We kept telling her they smell like fritos!  We're thinking Barney picked that up when he was in Alaska visiting Opie.  We know Opie was here with us as we tried to finish Barney off!
Zuzu became obsessed with Barney.  She tried to finish up what Ginger started by chewing on his eyes.
Being the more mature, older woman… I was more covert.  I didn't do external damage – oh no! – I did what terriers do best.  I shook him to within an inch of his life.  Barney's brains are now officially scrambled.  But Zuzu and I were not able to wipe that silly grin off his face.  But know this, fellow tripawds…. there is nothing behind that grin because Barney's brains are mush after his visit with me!!!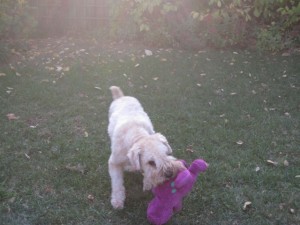 We did our best to lose him in a maze at the local Arboretum.  We've decided he must be part cat – he definitely has at least 9 lives…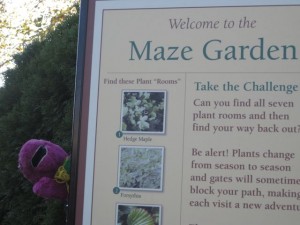 He emerged in some sculpture…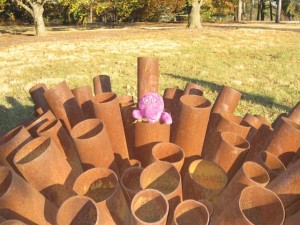 I had to give him one last shaking before he leaves… and mom made me take a "nice" photo – yuck!! (notice the mittens – they will help to keep him constrained.  He kinda looks like FrankenBarney now).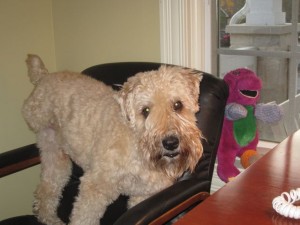 Now we're all wondering where Barney will end up next???