Today, 12/29/2010, is Holly's 1 year ampuversary!!  We are celebrating big time here, and hope that all you tripawds out there will get extra treats to help Holly celebrate!  As you can see, Zuzu and Holly are both very jolly today!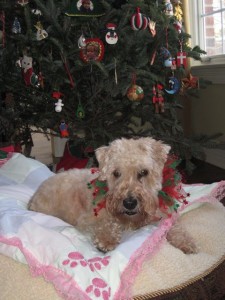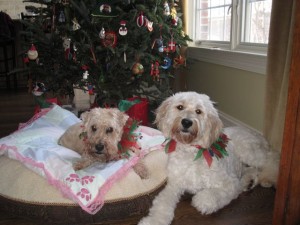 Thank you to all of our friends – your kindness and support through this past year have meant the world to us! Today we will be lighting a candle for the angels who share this important day with us – Angel Teyha and Angel Cherry, and a candle for all the other tripawds who have crossed the bridge.  You have all inspired us more than you can imagine.
Hugs!
PS – a BIG thank you to Grandma Kay (Comet's and Monkeybutt's Grandma) for the beautiful tripawd quilt!  It even has Holly's favorite color – pink trim!!!  And pink pawsprints!