Hi Everypawdy!  Life has been good this week… Holly's bloodwork was better than last week (her counts went from 540 to over 5000!).  She was scheduled to get her last chemo yesterday, but her veins wouldn't cooperate because she was dehydrated.  It's been hot here in Chicago, and we've been picking up the water in the early evening because of the puppy without thinking about how that could affect poor Holly.  So the vet gave her fluids yesterday, and today she's enjoyed some salmon popcicles we made yesterday, and some frozen pb&yogurt treats (thanks, Comet!) so hopefully she'll be good to get her final chemo tomorrow.  Her spirits have been good, except she'd like to erase the little intruder from our house.  She does a good job totally ignoring Zuzu – still really only shows her backside to the puppy!  And of course Zuzu is very excited about Holly.   So we're working on harmony in our pack. 🙂  Holly now allows Zuzu to nap within a few feet of her – so we're making progress!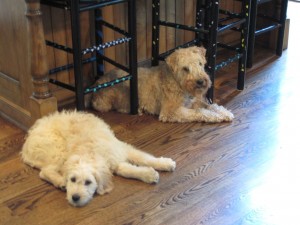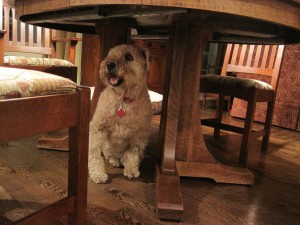 Grandparents were visiting over the weekend, which was awesome for Holly since Grandma (who is not a dog person) loves Holly and made sure to give her plenty of pets.
I'll update again tomorrow night or Friday to let everyone know if Holly is done with chemo.  I'm hoping we'll be celebrating the end of that soon!