Tripawds is a user-supported community. Thank you for your support!
Holly loves it when her sisters play the piano.  Today was Chopin – and while she usually lies right near the piano and relaxes, for some reason she got herself into a funny position in my office and stayed there with her little crooked smile on her face.  A picture is worth a thousand words, right?  Well maybe a thousand notes?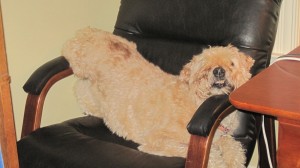 I'm not even sure how she got into this position – her butt was on one arm of the chair and her head was on the other.  And when I looked over at her she had her eyes mostly closed and with her little crooked smile she looked so relaxed that I had to take the risk that she wouldn't move if I got up to get the camera.  Luckily, the music had her totally enthralled and she barely even noticed that I left the room!  She stayed in this position for the longest time, too!
And she's teaching Zuzu the art of relaxing to piano music, as you can see.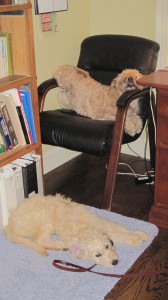 They are getting along pretty well now – still not best friends but then again it takes awhile to become best buddies, right?  Zuzu doesn't go totally ape over Holly anymore – she restrains herself and gives Holly kisses instead.  I think someone had commented that when a dog kisses the face of another dog it's a sign of respect. I hope that's true, since that would be a good sign here!  Holly now doesn't always leave the room immediately when Zuzu enters – she will hang out for awhile now, especially if Zuzu is sleeping.  Holly still has never growled or snarled at Zuzu – she's just too kindhearted to reprimand her new little sister!  I'm still hoping that with time they will become great friends!