Tripawds is a user-supported community. Thank you for your support!
Hey – tomorrow is Gerry's pawty in WI and my mom says we can go!  I am so excited to see Gerry again.  And hopefully get some good Wisconsin cheese.  And maybe even some ice cream!!  I can't wait!
So it's been pretty hot here in the midwest… although my cousin says it's even hotter in NY.  She's a golden so she can escape the heat by swimming, though.  We've been hanging on the front porch enjoying the shade and the breeze.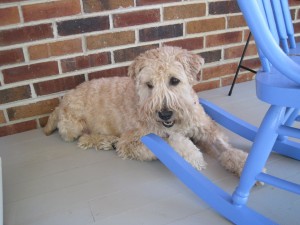 Mom's been taking me for a short walk in the morning.  It's been too hot to walk at lunchtime, when we usually walk.  Tomorrow is supposed to be perfect, though – not too hot for Gerry's pawty!
We went to a friend's house a few weeks ago.  Zuzu swam all day, and I worried about her all day.  Why did she have to swim out so far?  I kept running up and down along the shore to be sure I could see her.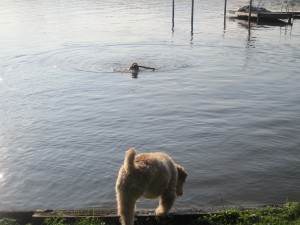 When she got close to shore I really gave her a tongue lashing!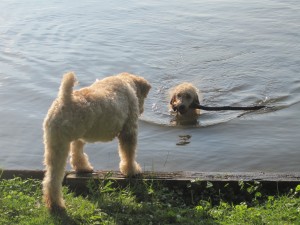 In this picture I think she's trying to look like Maggie the Agile Cow Dog – look at those ears!!  This is why I call her silly Zuzu!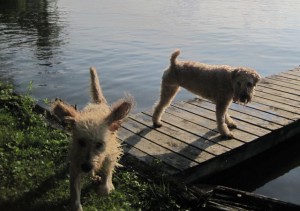 I even went swimming – a little bit anyway.  I waded in up to my belly twice.  And jumped in once, but mom says I shouldn't have done that without a floatie.  Someone pulled me out right away – boy, they didn't think I could swim!  Sheesh!
And finally, my favorite picture of Zuzu.  I LOVE it when she looks like this!!! 🙂