Tripawds is a user-supported community. Thank you for your support!
Yesterday was Gerry's tripawds pawty in Madison, and it was a blast!  But… my mom left her camera in the car.  At least she remembered to charge it this time!  So we have some pics from when we were saying goodbye in the parking lot.  You'll won't see everyone who made it, since there were lots of spirit tripawds with us having fun!
We all wore tripawds rule bandanas and we rocked!  All sorts of other dogs wanted to play with us.  Zuzu got pretty tired by the end of the pawty.  Not me!  (As an older woman I know how to conserve my energy… ha ha ha)  Here's Gerry modeling the cool bandana, and Gerry's roomie Biggie:
And here's Gerry and Toby (Hopalong Harley's brother):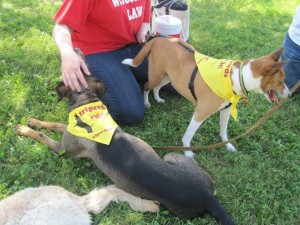 And here I am with Zuzu: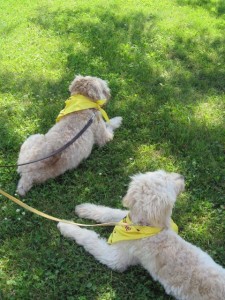 It was lots of fun to see Gerry, and to meet Biggie and Toby.  We just missed GI Jack, the tripawd from Iraq.  Bummer!
After the pawty, my mom and sister went to get some ice cream.  They got me some cheese!  My favorite!  And it's from Wisconsin – so now I know why my mom always tells me I should have been born in WI – they make the best cheese there! 🙂  I shared a little, little bit with Zuzu.  She is my sister, afterall.  I sure was Jolly Holly yesterday!